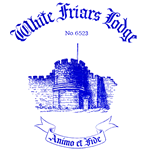 During the year 1946 several members of Carliol Lodge No 5419 being aware of almost a 5 year waiting period for candidates to be initiated, decided to approach the Provincial Secretary for permission from the Provincial Grand Master with a view of forming a new Lodge.
19 members along with 4 Past Masters from 3 other Lodges became founders and signed a petition for a Lodge to be named WHITE FRIARS LODGE. A warrant was duly granted by the right Worshipful Acting Grand Master, The Duke of Devonshire on the 14th June 1947, the Lodge being numbered 6523 on the Roll of the United Grand Lodge of England.
The name White Friars was taken from the tower forming part of the city wall in Orchard Street. The Carmelites, or White Friars as they were also known, built the tower. Unfortunately the tower was demolished in 1840. During its demolition a Roman Altar was discovered, dedicated to the God Sylvanus. This Altar was removed and placed in the Castle Keep near St. Nicholas Cathedral. In its day the tower was utilised as a meeting place for operative masons, bricklayers and others. The area at that time was beautiful with the foliage of many orchard trees, hence the name which remains to this day of Orchard Street.
The Lodge was consecrated by R.W.Bro William Cooper Bailey, Provincial Grand Master, accompanied by many of his officers, on Thursday 18th September 1947 at Gowen Terrace, Jesmond (now referred to as Fern Avenue). W.Bro Ernest E. Allison (a Past Master of Carliol Lodge No 5419), being Master Designate, was duly installed as the first Master. The election of the Treasurer and the Tyler were confirmed. The appointment and investiture of the officers was then carried out.
At the meeting held on Thursday 9th October 1947, due to commitments in Brighton, the Master W.Bro Ernest Allison was unable to be present. W.Bro Norman J.D. Hall (a Founder and Past Master of Fortitude Lodge No 4017) occupied the Master's Chair. A ballot of 3 candidates proved unanimous and Mr Percy Boydell Jnr, a Lewis (his father being a Founder) and Mr William Elliot, along with Mr Harold Greenwell, were duly approved of for initiation. A further ballot was taken for Bros. T.F.Cairns, P.G. Walton and R.W. Davison (all members of Carliol Lodge No 5419) as joining members was also unanimous. Mr Percy Boydell Jnr and Mr William Elliot were admitted into the misteries and privileges of ancient freemasonry by the acting Worshipful Master, assisted by W.Bro William Newton. The tools of
the first degree and the ancient charge were delivered by Bro. William Watson , Junior Warden. This was my introduction to fifty exceedingly happy and memorable years in freemasonry. The annual subscription then was two guineas (£2.10) about a third of a weeks wages.
During the first five years, many presentations were made to the Lodge by the founder members, including the V.S.L.,a beautifully engraved alms plate, silver square and compasses, 4 wooden squares, a silver snuff box, hymn and music books and many other items. A special fund was used to purchase aprons and gauntlets to be worn by the W.Master and Wardens. The gauntlets survived until December 1996 and were replaced by a very kind donation from the funds of our social committee. The official warrant was received and displayed in October 1948. A Past Master's Jewel was presented to W. Bro Ernest E. Allison to express the gratitude of the Lodge and its members for the splendid work and dedication he gave during the first 15 months he was Master of the Lodge. The jewel now adorns the collar worn by each succeeding Master.
In 1953 the Lodge moved to Broomfield Hall, Jesmond Road, which was the new Headquarters of the Provincial Grand Lodge of Northumberland. We remained at these premises for the next 18 years.
At the annual meeting on the 9th December 1954, Percy Boydell Jnr, Senior Warden Master Elect, was installed as Worshipful Master. A night I shall always remember as it holds many fond memories for me. It was a great honour and a privilege as the first initiate to become W. Master of White Friars Lodge. Incidentally the banquet cost the enormous sum of 7s 6d (37.5p). By coincidence my late eldest brother W.Bro Thomas Boydell was Worshipful Master of our Mother Lodge Carliol No 5419 for three months of my Mastership and of which our father was indeed a truly proud mason.
Our 100th meeting took place during 1957 and we were honoured by the presence of the Deputy Provincial Grand Master W.Bro. R. P. Winter PGD accompanied by several Officers of Grand Lodge. The Master W. Bro Harold Greenwell invited W. Bro. Ernie Allison to occupy the chair as W. Master, who in turn requested as Senior Warden W., Bro. Robert Sibbit, Junior Warden W. Bro. L.L. Henderson, Senior Deacon W.Bro Frank Ford Junior Deacon W. Bro John Shephard - all founders; also W.Bro Percy Boydell as inner Guard and W.Bro Bill Elliot as D.C. - being the first two initiates. He also requested W.Bro Norman Hall as I.P.M. and W.Bro Albert Ketley as Chaplain, the latter two also being founders. A first degree was conferred on Mr. N.G. Harrison and Mr. G.W. Anderson.
In 1965 W.Bro. Ernie Allison and in 1969 W.Bro. Bill Newton were respectively honoured by Grand Lodge with the rank of Past Grand Standard Bearer in recognition of their outstanding contributions to freemasonry in general and White Friars Lodge in particular.
In 1971, due to a compulsory purchase order on the property, the Lodge was on the move again from Broomfield Hall to Shiremoor. During the same year we received news of the tragic death of W.Bro. Bill Elliot our second initiate. He was lost overboard in a tropical storm in the Pacific Ocean whilst on a yachting voyage to Australia.
In January 1973 the Lodge moved again, this time to Ferguson Lane Masonic Hall whilst waiting for the final stages of a refurbishment to the Co­op Hall at Gowan Terrace. We eventually returned to or original home in September 1973. Those of us who remembered the old Gowen Terrace Temple were absolutely astounded at the transformation that had taken place to the upper floor of the building. By now the annual subscription was £10.50.
On the 1ih September 1974, R.W.Bro. J.M.S.Coates Provincial Grand Master and a number of his officers attended for the unveiling and dedication of our Lodge Banner. An address by W.Bro.Ernie Allison paid Tribute to W. Bro. James Gilmore for his unstinting efforts in raising the necessary money and to W.Bro. J. Brown and Mrs M.E.Brown on their production of such an excellent banner. W.Bro Allison then thanked the Provincial Grand Master for gracing the proceedings to dedicate the banner. At this point W.Bro Allison collapsed and was carried from the lodge to be rushed to hospital. The Master W.Bro. Alex Scott in respect to W. Bro. Allison and to carry out his wishes requested Provincial Grand Master to dedicate the banner. W. Bro. Coates in his address stated that W. Bro. Allison's enthusiasm has exceeded his discretion by placing an intolerable strain on his very limited health resources following his long and protracted illness. We were to learn later that he died shortly after being admitted to hospital. His death was an enormous loss to the Lodge, having contributed so much in the well being and running of the Lodge, including 23 years as our Director of Ceremonies, during the 27 years since becoming our first Worshipful Master.
By November 1980 subscriptions had increased to £18.00 a year. Since 1980 the lodge continued with regular meetings and a steady flow of candidates up to the early 1980s.
On Thursday 9th June 1994 W.Bro Ken Westgarth P.ProvSGW, who became a joining member of White friars Lodge in January 1948 and having served a total of 55 years in Freemasonry, was presented with a 50 years certificate of service by W.Bro Percy Boydell PProvJGW, on behalf of R.W. Bro Michael Nixon Craigs Provincial Grand Master.
At the annual meeting in December 1994, W.Bro Percy Boydell was installed as Worshipful Master for the second time, 40 years after being Master for the first time during the year 1954-1955.
On the 13th June 1996, in accordance with a notice of motion in his name, the Senior Warden, W.Bro. Percy Boydell PProvJGW, requested that White Friars Lodge become a sponsoring Lodge for a new daytime Lodge to be known as Per Diem Lodge. A vote was taken which was unanimous in favour. The petition was signed by the Worshipful Master and Wardens in open Lodge.
In this year when we celebrate our Golden Jubilee, W.Bro Boydell once more is Master for the third time, 50 years after being initiated - quite a remarkable achievement.
The first 50 years have been completed, the members and all those we hope to have in the future can look forward to the years ahead into the next millennium for the continuing success of the White Friars Lodge.
We owe a great debt of gratitude to the many brethren who have served the Lodge so well over the past 50 years and charge those holding office now and into the future to support Freemasonry and this White Friars Lodge in particular.
Written by W.Bro. Percy Boydell (deceased)
Worshipful Master of White Friars in 1997 on the occasion of their Golden Jubilee